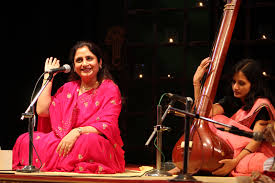 Renowned Kathak dancer Mahua Shankar and Banaras Tumri diva Kamud Diwan will headline the melas to be hosted by the Indian Arrival Committee (IAC) in celebration of the 171st anniversary of the arrival of East Indians to Guyana.
The first mela is scheduled for May 3 at the National Park. The second mela will be held at the Albion Sports Complex Ground in Berbice on Tuesday, May 5, while the third and final will be at the Anna Regina Community Centre Ground in Essequibo on Sunday, May 10.
This year, Mahua Shankar and Kumud Diwan will join the celebrations in Guyana as part of a ten-member team coming to Guyana.
The talented Mahua Shankar has performed with Pandit Birju Maharaj in his major productions in many prestigious festivals and has travelled extensively in India and abroad. She has to her credit dance sequences in two major films, "Gaddar" with Sunny Deol and Amisha Patel and "Devdas" with Shah Rukh Khan, Aishwarya Rai and Madhuri Dixit.
Kumud Diwan combines the best of the Banaras and the Lucknow styles of Tumri singing. She has a rare gifted voice that lends itself to all forms of classical and semi-classical genres.
According to the IAC, the Indian artistes will be accompanied by leading local artistes drawn from the three counties. In 2004, 2006, 2007 and 2008, various troupes from India have graced the IAC melas in a collaborative effort between Guyana and India. As an addition, the IAC in collaboration with the CheddiJagan International Airport, Timehri, will be mounting an exhibition reflective of Indian Arrival from May 01 to May 07, 2009.
Guests arriving during this period will be provided with an opportunity to be more enlightened about Indian arrival and their contributions to the development of Guyana, the IAC stated. In addition, the Committee said an appropriate welcoming ceremony awaits visitors at the launch of the exhibition. The IAC said at this year's melas it will continue to honour outstanding Guyanese of Indian origin who have contributed to the country's development in various fields.
To date, some twenty persons have been honoured with the IAC award. Those honoured include Sattaur Gafoor, ShriPrakashGossai, Dr. Bobby Ramroop, Pat Dyal, Pita Pyaree, Harry Ramsaroop, Imam Shaheed Mohamed, Shafiran Bhajan and the late Ayube Hamid. Posthumously, Satyadeow Sawh, Paul Persaud, Gobin Ram and Laxhmie Kallicharran were honoured.
This year is the seventh year since the IAC has been promoting events to mark the arrival of East Indians, which is observed on May 5 annually.
The first batch of immigrants arrived in Guyana on May 5, 1838.