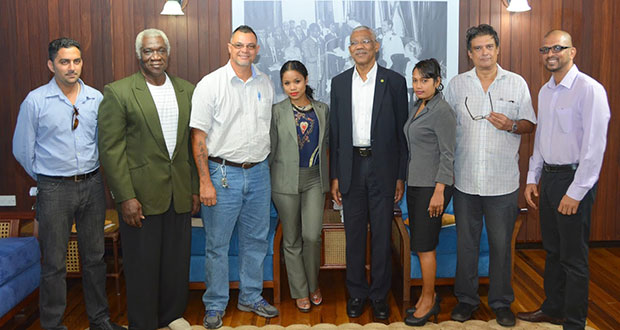 Press Release
Thursday August 18, 2016
IAC raises Unity Play, ERC composition, Communal Land concerns & plans for 100th year of arrival of last 'coolie' ship.
The Indian Action Committee (IAC) met with HE President Granger on Thursday, August 18, 2016 at the Ministry of the Presidency, to discuss several issues that the IAC felt that HE needed to be apprised of.
Unity Play: The IAC first informed President Granger of its recently completed stage Play titled "I am US", written by IAC Executive member Neaz Subhan which deals with the problem of Social Cohesion in the Guyanese society as general elections approach.
The IAC invited stage Actors and Cast members Mr. Godfrey Naughton and Mr. Kirk Jardine to explain the objectives of the stage play to President Granger.
The IAC is hoping to stage the Play at the National Cultural Centre and in the various regions and is seeking support from the Private Sector and the government to offset its production cost. The IAC presented a copy of the stage Play to President Granger.
ERC Establishment: The IAC enquired into the restoration of the Ethnic Relations Commission (ERC) and was given the assurance by President Granger that the (ERC) will be restored when Parliament reconvene after its recess.
3. 100th year of last 'coolie' Ship: The IAC informed President Granger that the last 'coolie' ship from India arrived in British Guiana on 18th April 1917 and that the organisation has planned a series of cultural events including a stage Play to commemorate the centenary anniversary of the arrival of the s.s. Ganges which brought 437 persons.
The IAC suggested to President Granger that this commemoration coincide with the unveiling of the 1838 (Indian Indentured) Monument which is a gift from the Government of India to the people of Guyana.
The IAC led the call for the 1838 Monument during the time of the previous government.  The monument has been completed and is ready to be shipped to Guyana for installation at Palmyra, Region Six Berbice.
4. Communal Land concerns: The IAC requested clarification from President Granger and what he meant by "anomalies" and "controversies" pertaining to communal and proprietary villages established by formerly enslaved persons between 1839 and 1860 and his proposed communal lands commission to deal with these problems.
The IAC was informed by President Granger that no lands will be taken away from anyone but problems relating to land ownership involving the descendants of the commonly owned lands involving land titles will be resolved by this commission.
The IAC intends to follow up these matters with the President.  Further the organization will reach out to other stakeholders including the political opposition, religious groups, the international community and civil society on these and other matters relating to the Indian community.
The IAC was represented at the meeting by its executives including Mr. Evan Radhay Persaud, Pandit Aditya Persaud, Ms. Herandai Khemraj, Mr. Roy Mookram and S. Alli.