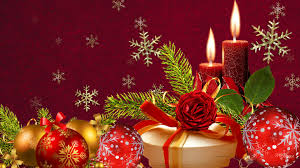 The Indian Action (formerly Arrival) Committee (IAC) extends Season Greetings to all Guyanese as we all prepare to celebrate Christmas. We call on all Guyanese to strive to truly make it a season of giving in the spirit of bringing joy and happiness to each other.
Christmas is another festival that transcends religious boundaries and has sustained its tradition of forging unity among all of our people. The camaraderie and sharing over time have resulted in our unique style of making a Guyanese Christmas a truly enjoyable experience. We trust that all would be able to so indulge.
The IAC would also like to urge that in this season of goodwill, we be reminded of the pertinent messages in an effort to foster peace and tolerance.
The IAC recalls the part of the nativity story relates the challenges that Mary and Joseph encountered in their efforts to secure a resting place to give birth to the Saviour Jesus Christ. We believe that the humility they demonstrated through this story and the humble upbringing of Jesus Christ, remain a beacon for all mankind to be guided by.
Further, we believe that humility and respect are integral in the quest for universal peace which appears to be elusive.
The IAC would like to urge that as we celebrate, we remember those who would be unable to do so for various reasons and for them to be kept in our prayers.
In every society, the celebrations are therefore never holistic. Closer to home, the IAC remains cognizant of the challenges some of our fellow countrymen and women face that would prevent them from partaking in the related celebrations.
Recently, we learnt that some families may have their homes repossessed. If this were to be realized, those persons will be deprived of a shelter which would result in suffering, not mentioning the inconvenience.
Unfortunately, we also learnt that those who may potentially lose their homes are of one particular ethnic group giving rise to the suspicion of a selective approach. We can only hope that is not the policy of the authority, however, from what appeared in the public domain, it seems compelling.
The IAC would therefore like to urge the authority to ensure that no unnecessary hardship befall those Guyanese and for them not to endure a forced deprivation of their humble habitation. In the recent past, we spoke out against the dismissal of Guyanese from one ethnicity which we believe is counter-productive to efforts of social cohesion.
In the same way, we believe selective repossession of homes will scuttle the much needed efforts to foster unity and confidence. We hope that this season would afford an opportunity for reflection and eventually, correction and halting of such action to deprive persons of their homes.
We believe that the unfortunate price Mary and Joseph paid, could be spared for some of our fellow citizens. The IAC hope that in the spirit of goodwill, the situation can be amicable be resolved.
Once again we wish each and every Guyanese a merry Christmas.