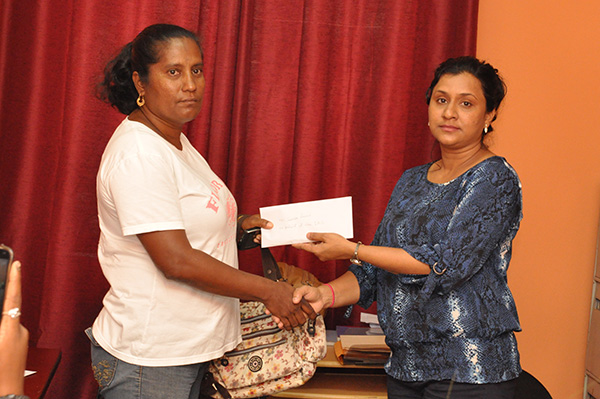 Following the establishment of a hotline (223-5161) to receive complaints and concerns from persons affected by 2015 post-elections incidents of violence, the Indian Arrival Committee (IAC) today handed over tangible contributions to two Sophia families that suffered tremendously.
At a simple handing over ceremony at the IAC Office on Quamina Street, Georgetown, representatives from the families, Mrs. Farida Prasad and Mrs. Pooladai Khublall, received financial contributions and expressed their thanks to the organisation. During the ceremony, they expressed the pains and suffering they endured during that period as well as significant losses which have severely affected their everyday lives.
Both Mrs. Prasad and Mrs. Khublall have informed the IAC that they are unsure of living in their current homes in the future and are contemplating relocating for the sake of peace, security and avoidance of such incidents which now seems routine with elections. They pointed out that the relocation would be costly, hence making it even more challenging on them.
Many incidents of intimidation and humiliation have been received since the hotline was established. The IAC is in the process of compiling a comprehensive report for submission to both local and international authorities.
The IAC is a non-profit organisation that operates under a mandate to preserve and promote Indian Cultural activities, traditions and heritage while at the same time deal with social issues that affects Indo-Guyanese and to an extent, Guyanese of all ethnic and religious background.