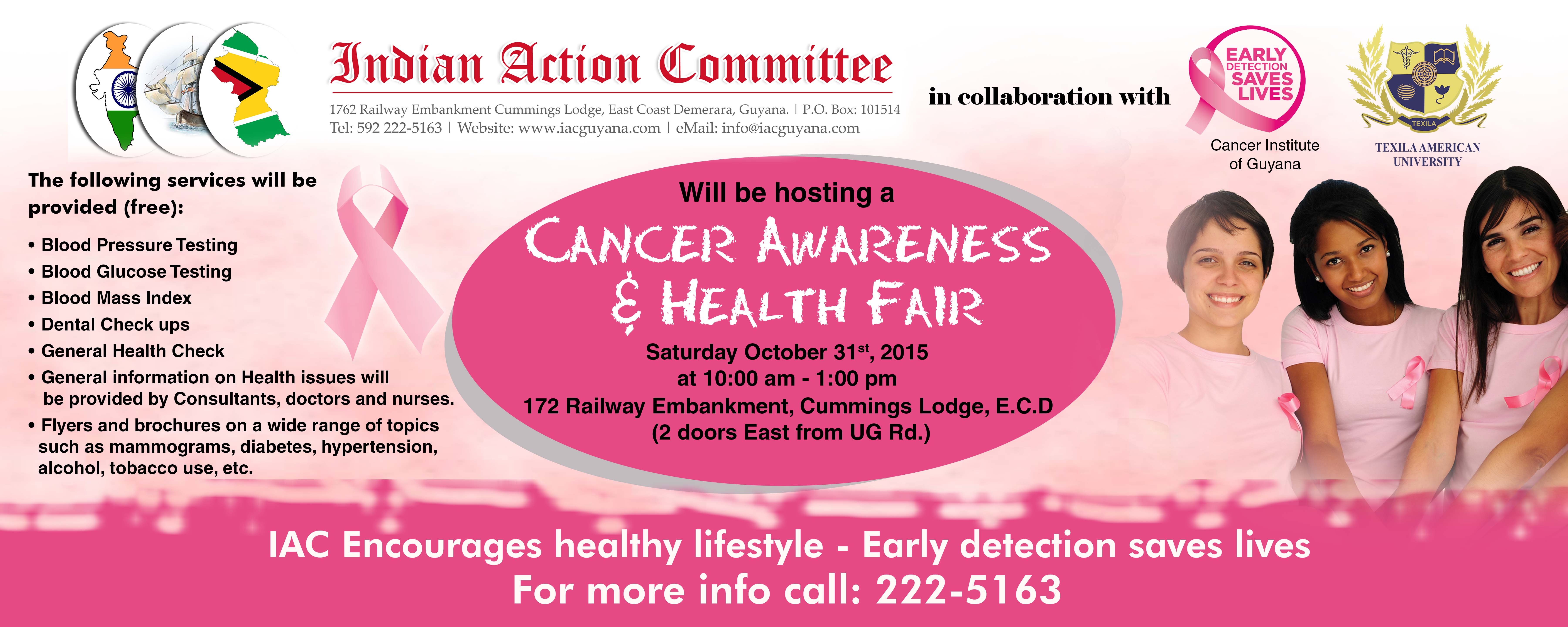 In support of Cancer Awareness Month 2015, the Indian Action (formerly Arrival) Committee (IAC) in collaboration with the Cancer Institute of Guyana and Texilla American University will be hosting its Cancer Awareness and Health Fair on Saturday October 31, 2015 at the IAC Office which is located at 1762 Railway Embankment, Cummings Lodge (two doors east from the UG Road). The event is slated to commence at 10:00am and conclude at 1:00pm.
Doctors, Nurses, Consultants from the Cancer Institute of Guyana and Students of the Texilla American University will provide to the public a wide range of health services such as Blood Pressure Testing, Blood Gluscose Testing, Blood Mass Index, Dental Check ups as well as the distribution of flyers and brochures on a range of topics such as mammograms, diabetes, hypertension, alcohol, tobacco use among many others.
In light of this, the IAC would like to bring to the forefront that Breast Cancer does not discriminate; it affects persons of all ages, ethnic groups and income levels. Too often precious lives are lost or interrupted due to cancer.
The International Agency for Research on Cancer (IARC) reported last year that there was a sharp rise in breast cancer worldwide.
The report indicated that in 2012, 1.7 million women were diagnosed with breast cancer and there were 6.3 million women alive who had been diagnosed in the previous five years.
Since 2008 estimates, breast cancer cases have increased by more than 20 per cent, while mortality has increased by 14 per cent.
Research has shown that Breast Cancer remains the most common cause of cancer death among women (522,000 deaths in 2012) and the most frequently diagnosed cancer among women in 140 of 184 countries worldwide.
IAC over the years, sought to engage members of the public domain in its activities whether it be a cultural event or one that seeks to educate persons on various social issues. This time however, the Committee for the first time has decided to embark upon a health outreach programme which will allow the public to take advantage of the various health services that will be provided free of cost.
The IAC is therefore urging all that there is need for the raising of awareness on Cancer and its symptoms so that we can easily identify it and most importantly treat it at its early stage.
This month as we honor those fighting cancer and lend our support to the families that are affected, the IAC calls upon the general public to come out and educate themselves on this disease which would in turn help in providing knowledge to those that are affected in either ways.