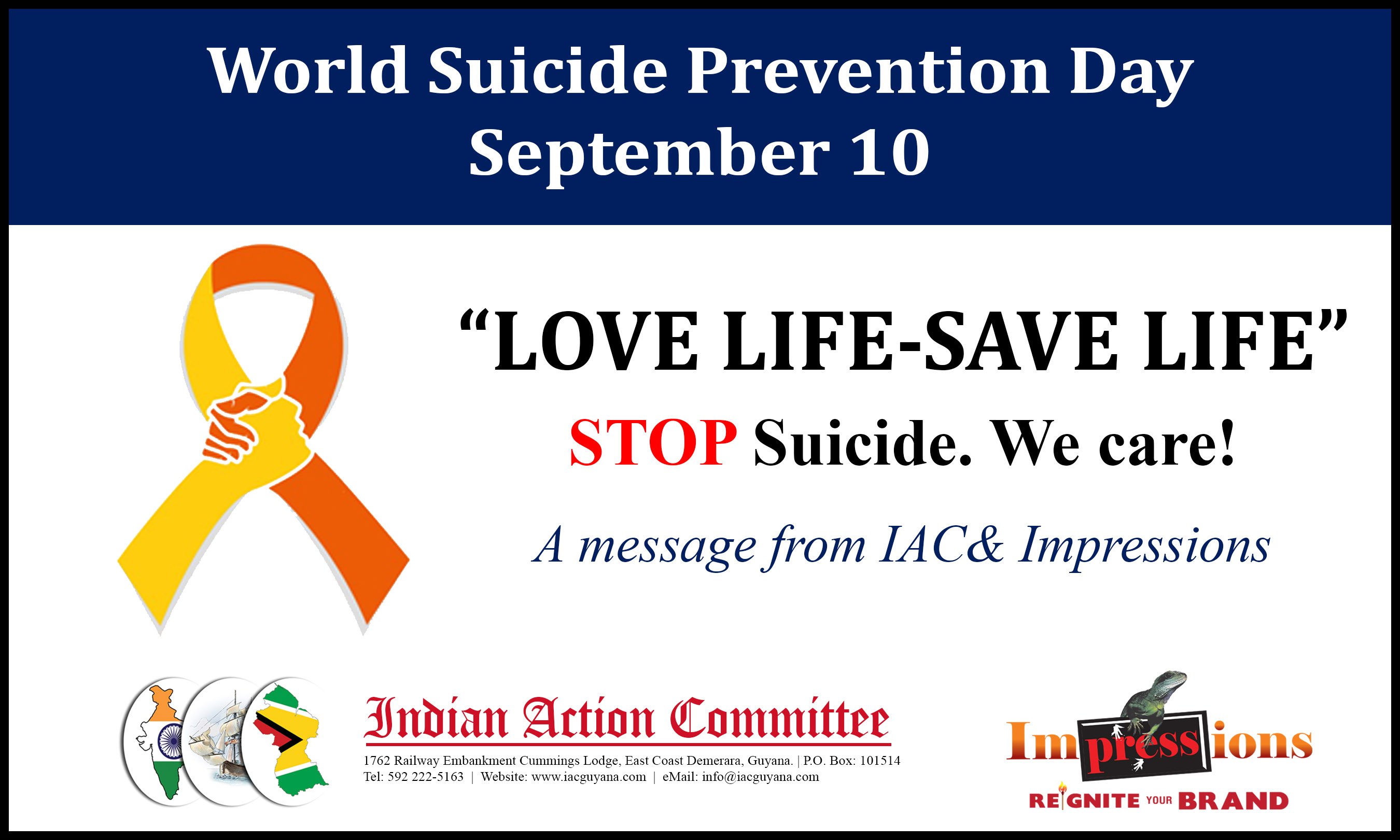 PRESS RELEASE
The Indian Action Committee (IAC) wishes to inform the general public that the organization in collaboration with the Better Hope/ LBI NDC is organizing an awareness march in observance of World Suicide Prevention Day (WSPD) on Sunday, September 10, 2017.
The theme for this year's WSPD is "Take a minute, Change a Life!" – the IAC would, therefore, like to encourage all Guyanese to make the effort to really  Take a minute and Change a Life, the life you change may be the one that saves you.
Participants will include representatives from the business sector, educational institutions, religious organizations, and civil society, all of whom will assemble by 15:00hrs (3:00 pm) at the entrance of the Massy Distribution (Guyana) Inc. compound located at Starlite Square, Montrose, (East Coast Demerara Public Road).
The assembled contingent will then proceed west to the Better Hope Community Centre Ground where short presentations will be made by prominent members of the aforementioned groups.
The IAC since its establishment in 2003 has focused on suicide prevention as part of its social work programs in various communities.
The IAC, in the past, has conducted several suicide prevention workshops in rural areas with emphasis on the contributory factors of alcoholism, unemployment and spousal abuse. The IAC strongly feels that given the ongoing scourge of suicide in Guyana, especially in rural Indo- Guyanese communities, that it is imperative that the organization and other such bodies continue to observe WSPD.
The IAC urges persons who may be struggling with suicidal thoughts to contact the Suicide Prevention Helpline on telephone numbers: 223-0001, 223-0009, 623-4444, 600-7896.