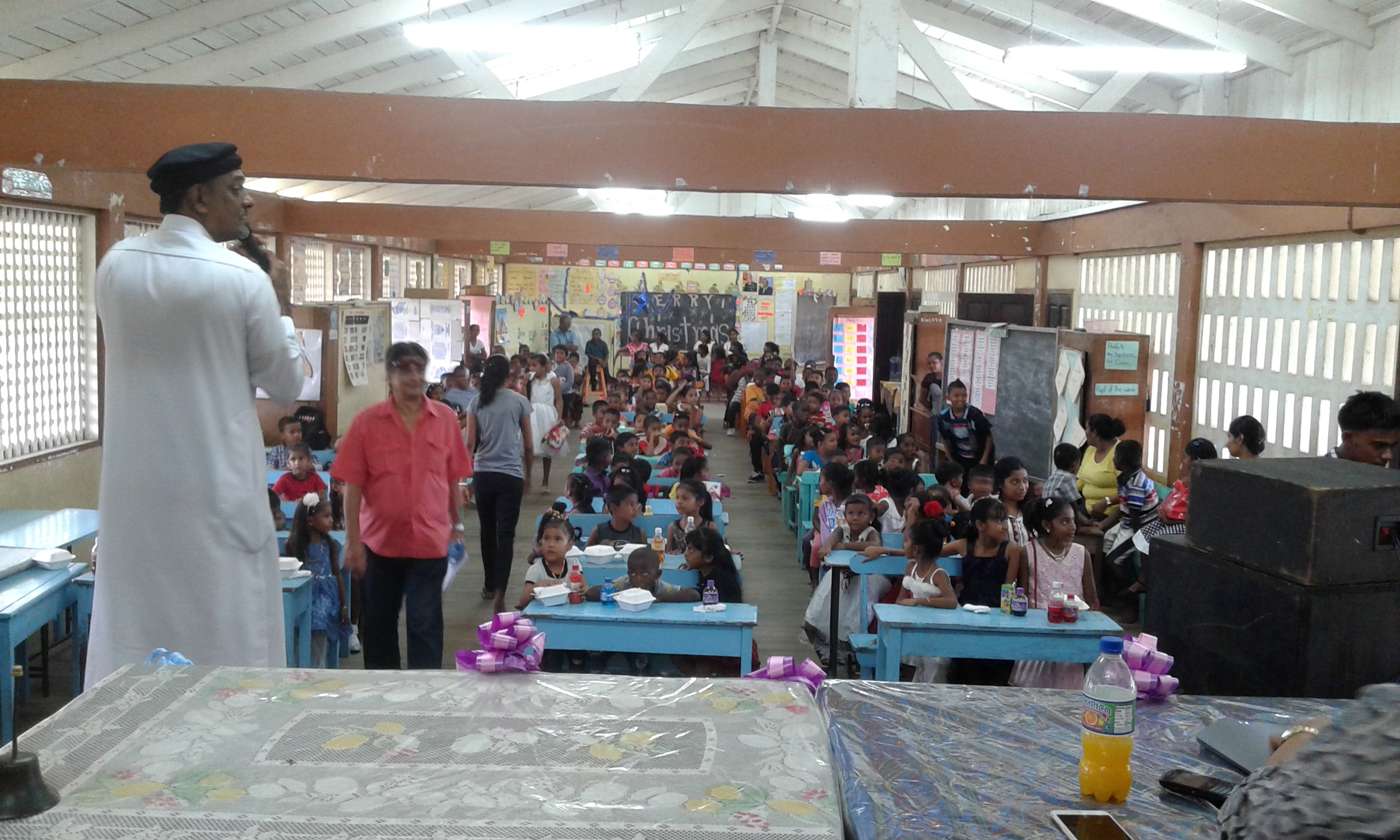 PRESS RELEASE
The Indian Action Committee (IAC) hosted its annual Christmas Outreach on Sunday, December 18, 2016 at the Virginia Primary School, Cane Grove, East Coast Demerara which was attended by more than two hundred less fortunate children from the village.
The IAC provided each child with a box of food and accompanied by either a soft drink or a fruit juice.
The IAC also entertained the children with music by Vijay Sound System of Enmore who played a mixture of Christmas songs and chutney music, the latter to which some of the children danced to competitions for best male and female dancer; all dancers were provided with gifts.
After all the children had eaten and the dancing competition was over, each child was presented with a gift and a party bag containing cake, sandwich, biscuit, lollipop, sweets and balloon by Santa Claus, who was performed by a person from the village of Cane Grove.
The IAC wishes to express its gratitude to Gafoors, Sachi and Ashmins which allowed the organization in its Toy Drive to place marked boxes at these locations and all those persons who generously dropped off toys in these boxes; and other generous donors who donated toys; and the following donors: Bakewell for providing all the bread to make sandwiches; Banks DIH Limited for a number of Icee drinks; DDL for Topco juices, CIDI for Juicly juices; Guyana Beverage Inc. for Chubby soft drinks and Kool Kidz juices; Ansa McAL Trading for Mak-C drink mix; Survival Supermarket and Edward D Beharry & Co Ltd for sweets.
The IAC also wishes to thank Mr. Deryck Persaud, Regional Executive Officer of Administrative Region #4; and Ms. Tiffany Harvey, acting Regional Education Officer for permitting the use of the school for this event.
The IAC in conclusion thanks Ms. Bibi Ramnarine, Deputy Head Mistress of Virginia Primary School; Ms. Neemawattie Baldeo, Chairperson of Cane Grove NDC and a number of villagers who volunteered to decorate, to organize the children, and to clean after the event.
The IAC during the last decade has brought joy and happiness to thousands of less fortunate children from all ethnic backgrounds and from all different religious backgrounds at its previous Christmas Parties and will continue  this tradition as long as the organization remains in existence.