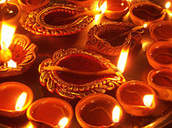 The Indian Action (formerly Arrival) Committee (IAC) extends Diwali greetings to the entire nation, especially our Hindu brothers and sisters. Deepawali or Diwali is certainly the biggest and the brightest of all Hindu festivals. It's the festival of lights (deep = light and avali = a row i.e., a row of lights) which literally illuminate the many Hindu homes and villages with its brilliance, and dazzles all with its joy.
In each legend, myth and story of Deepawali, the significance of the victory of good over evil is trumpeted. Diwali takes us from darkness unto light — the light that empowers us to commit ourselves to good deeds, that which brings us closer to divinity. During Diwali, lights illuminate every corner of Hindu homes and villages and the scent of incense sticks hangs in the air, mingled with the sounds of Bhajans, joy, togetherness and hope.
Diwali brings with it a significant and positive impact on the lives of Hindus. It has a universal message of hope, peace and prosperity. Hope for a brighter tomorrow; when we pray, we say Dhan Dayee Namastute – Oh Universal Mother, Bless us so that we can have a more prosperous future and rid ourselves of poverty in all its forms (Poverty of thoughts, intellect, wisdom).
Maha Lakshmi who is revered at this time represents wealth, peace and prosperity, which all Guyanese share in this beautiful country. Maha Lakshmi also represents motherhood and womanhood at large, that which the Hindus preserve, cherish give the highest reverence. Diwali is indeed a national festival for us in Guyana and Guyanese of all walks of life participate in activities nationwide.
The IAC hopes that the divine light of Diwali shines within ourselves so that knowledge and wisdom can be shared and that we show greater affection and compassion for each other. On this Diwali, let us continue to reach out to our brothers and sisters in our dear land and dedicate our efforts towards the progress, prosperity and peace of our nation.