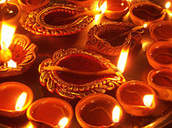 The Indian Action (formerly Arrival) Committee (IAC) has noted what appears to be a controversy surrounding the date for the celebration of Deepawali this year. From what has been in the public domain, it seems there is a difference of opinion with regard to the actual date, with one group claiming it's Tuesday, November 10, and another, Wednesday, November 11.
The IAC, as an Indian advocacy organization, is concern that if both were to hold their current position, it would result in the festival being celebrated on two separate days thereby creating a division within. In the interest of unity, the IAC urge both sides to engage each other with the intention of finding a common ground for one celebration.
The reality of two celebrations would be counter to the messages of harmony and unity which are usually articulated by both sides. In addition, the IAC believes that if a consensus is not reached, it can precipitate a situation whereby Guyanese Hindus would be divided on a festival that is so sacred to their religion. More so, Deepawali is one of our festivals that has transcended religious boundaries to become a truly national one creating much anticipation and expectation among Guyanese across the country with regard to the annual motorcades.
The magnetic ability of these motorcades along with the excitement of viewing the lighting of the Diyas and the related entertainment through many concerts to attract tens of thousands, continue to provide opportunities for Guyanese to interact and to build on social cohesion. In this regard, the IAC is concern that any fracture in the togetherness that derives a common date, would be unhelpful to the Hindu community and, by extension, Guyana.
The IAC calls of both sides to engage in meaningful dialogue in an effort to resolve the situation and reiterates the need for unity.